Ten Sea Swimming Spots in Cornwall
Sea swimming is a wonderful way to keep fit while relieving stress and boosting your mood.  The minerals in the water even help your skin!  Open water swimming, also known as wild swimming, is increasingly popular as people discover its health and wellbeing benefits.  And where better to go sea swimming than Cornwall, with its 422 miles of beautiful coastline.
Before you wriggle into your wetsuit, read our guide to wild swimming spots in Cornwall.
Nanjizal (near Porthcurno)
TR19 6JJ
This lovely rocky beach is way out west in the parish of St Levan.  Reached via the coast path, this tricky access means that Nanjizal is still mostly quiet and unspoilt.  The water is beautifully clear, making it a magical swimming spot. 
Your four-pawed friend is welcome to join you at Nanjizal, but keep them away from the local seals, who sometimes come right up to the shore.
Prussia Cove (Mount's Bay)
TR20 9BA
Prussia Cove is actually a series of small, secluded coves near Rosudgeon, east of Marazion.  If you love snorkelling, this is the place to come.  The water is just so clear and there's a natural harbour that makes a lovely swimming pool.
It's quite a walk from the car park (well, parking field), so travel lightly and be prepared for a trek.  Don't attempt to drive any closer.
Porth Nanven (near St Just)
TR19 7NR
Porth Nanven Beach is at the end of pretty Cot Valley, about half a mile from St Just.  It's also known as Cot Beach and Dinosaur Egg Beach (you'll see why when you spot the boulders).  At high tide a natural swimming spot, known as the Mermaid Pool, appears. 
The clear blue waters are great snorkelling territory, and it's a good place for spotting fish.  There's a small car park above the beach, or you could park in St Just and enjoy the walk.
Battery Rocks (Penzance)
TR18 4FF
If you like to swim as part of a community, try Battery Rocks in Penzance.  You'll always find fellow swimmers among the rocks around the back of the lidom, a favourite with locals for a refreshing swim before or after work.  The Battery Belles and Buoys set off from the Rocks at eleven (ish) every day and visitors are welcome.
Sea looks a bit rough? You can always compromise and swim in the glorious sea-fed lido itself, the splendid Jubilee Pool.
Bossiney Haven (near Tintagel)
PL34 0AY
Leaving the west behind, Bossiney Haven (or Bossiney Cove) near Tintagel is another good spot for open water swimming.  It's also the perfect way to cool down after the trek across to Tintagel Castle.
At low tide, you can walk across to neighbouring Benoath Cove.  This is an excellent place for a picnic, but not recommended for swimming, as there can be strong rips.  Stick to Bossiney Haven for a dip.
Bude Sea Pool
EX23 3AW
Bude Sea Pool is the perfect blend of seaside lido and wild swimming.  A natural pool was developed in the 1930s to provide a safe place for swimmers, away from the swell of the sea.  Today's pool is a wonderful place to swim and meet with friends.
The Sea Pool is open all year and free to use, although please leave a donation if you can.  The best time to swim is at low tide.  No dogs in the pool, please, but there are lots of good dog-friendly beaches around Bude if your pooch fancies a paddle.
Porthtowan Tidal Pool
TR4 8AA
Hidden behind boulders, the man-made pool at Porthtowan is the most incredible little swimming spot. The pool was blasted out using mining explosives in 1908, and a concrete dam installed to hold in the water.
Head there across the beach at low tide (the original steps down aren't safe anymore). It's a popular spot among local kids, so if you want a peaceful dip, aim for school hours!  Off season, you'll often have the pool to yourself.
Abbey Basin (Penzance)
TR18 2LS
Abbey Basin in Penzance is a different sort of tidal pool. The arches of Ross Bridge separate off part of the harbour by Abbey Slip. This creates a lagoon-like basin, which is a lovely, calm swimming spot, much enjoyed by families and novice SUPers.
Park in Wharfside car park, and head right towards the slip just before you cross the bridge.  Aim for a high-ish tide, or you'll be faced with a sludgy-looking puddle rather than an inviting pool.
Portreath
TR16 4PH
With lifeguards, loos and places to eat and drink, Portreath is a more typical beach than most of our Cornish wild swimming suggestions. It's a good family beach, and is also popular among surfers and bodyboarders. 
However, hidden beside the harbour wall is Portreath Rock Pool. Lots of local kids have learned how to swim in "Rocky Pool".  Don't come here if you want to cover any distance, but for a quick invigorating immersion, it's perfect. While you're in Portreath, look out for "Lady Basset's Baths", which were blasted out of the cliffs in the 18th century for genteel ladies to enjoy.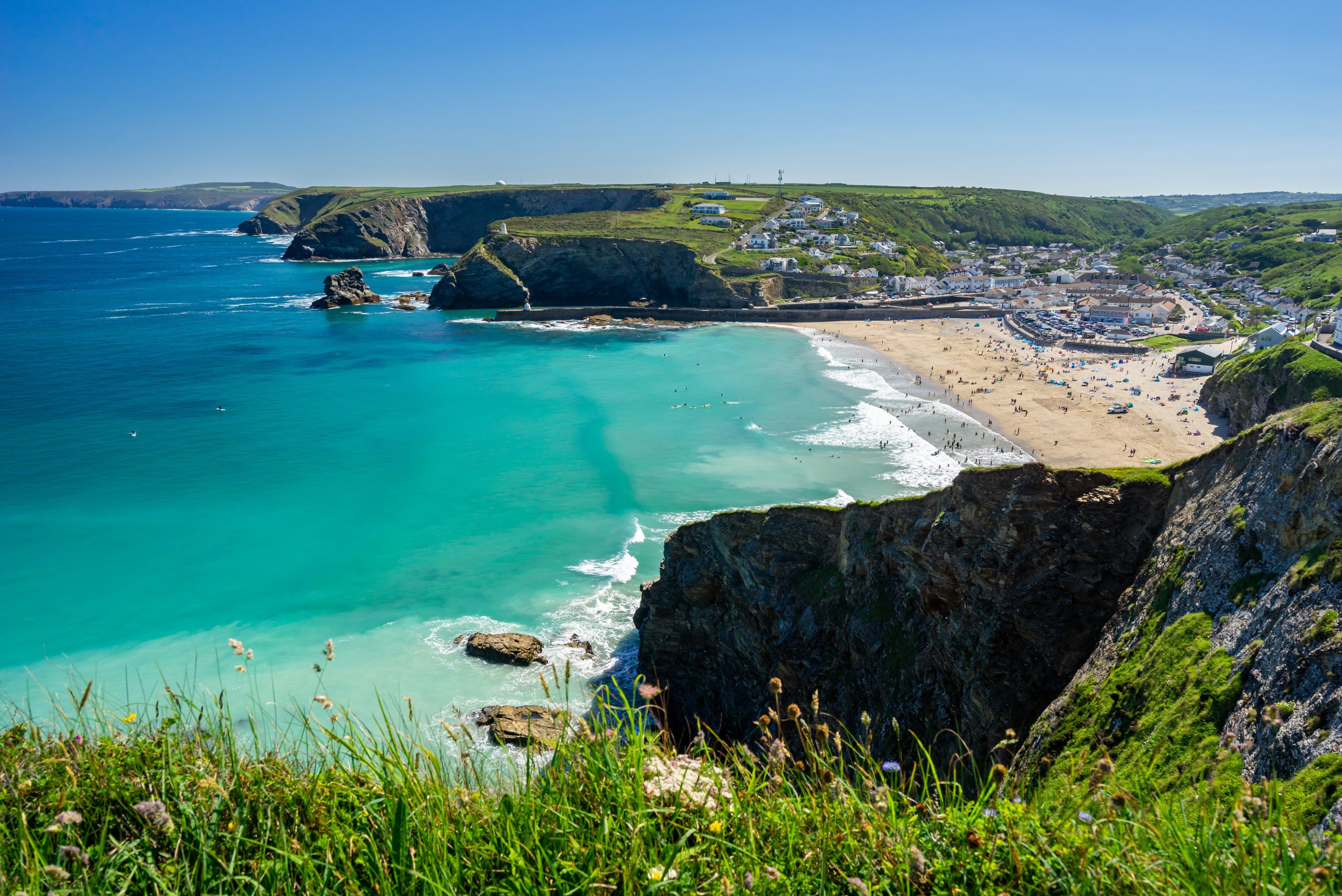 Porthminster Beach (St Ives)
TR26 2BH
If you're staying in St Ives on your Cornwall holidays, you're spoilt for choice when it comes to beautiful beaches! For swimming, Porthminster Beach is generally regarded as the best, and if you're swimming as a family, it's worth knowing that there's lifeguard cover here during the season.
When you get out, there's the option of a quick rinse under an outdoor shower, before warming up with chips or a hot chocolate from the takeaway. Wild swimming for those who like a bit of comfort.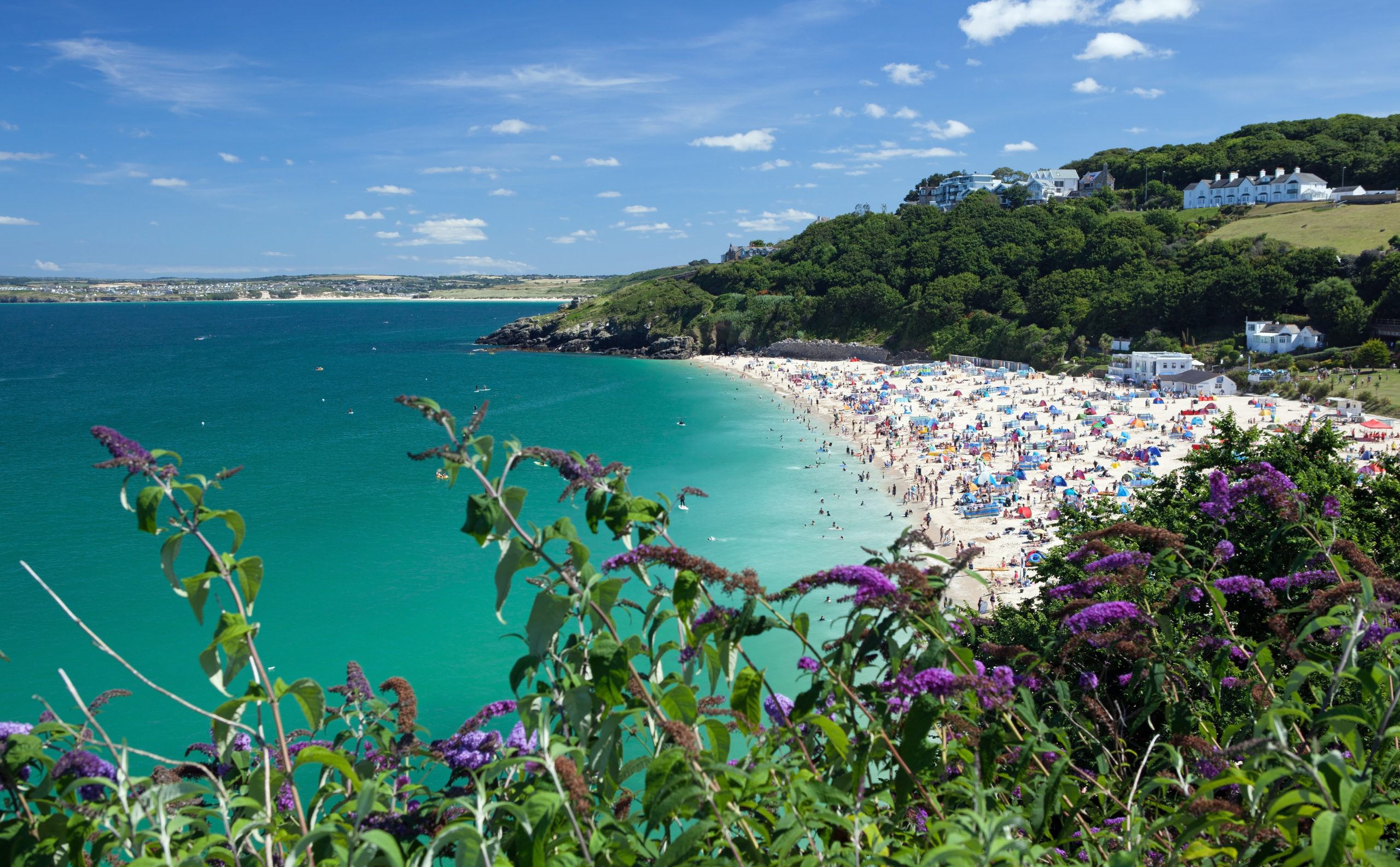 Tips for safe sea swimming in Cornwall
Download the

Surfers Against Sewage

app for tide times and water quality updates

Swim with a partner (even if they're on the beach)

Local knowledge: do your research and try to speak with local swimmers

Keep warm: make sure you're dressed appropriately for the water

Quit while you're ahead: get out before you feel cold and'or tired

For more ideas and advice, pick up a copy of

Wild Swimming Walks Cornwall

by Matt Newbury and Sophie Pierce

If you're unsure, don't swim
Find your perfect seaside Cornwall holiday cottage
Just imagine. You wake up, the sun's rising, and the tide is perfect. The beach is just a pebble's throw from your Cornish holiday cottage, and you've time for a dip before breakfast. What better way to start the day?
Explore our selection of coastal holiday cottages in Cornwall, and find your perfect beach retreat.