20 Dog Friendly Attractions in Cornwall
Our dog-friendly holiday homes are incredibly popular, and we often get asked where it is best to go out for the day with a pooch in tow. So, we have got our thinking caps on and put together an assortment of attractions where you can enjoy a day out with your furry friend.
The good news is many of the top Cornish attractions are happy for your pooch to enjoy a snuffle around their grounds so long as they are well behaved and stay on the lead!
The Eden Project
The Eden Project is a beautiful botanical garden famously housed inside large glass domes. It's a great place to visit with your family and your dog! There are often special events and exhibitions, wonderful options for food and plenty of indoor and outdoor space. Dogs are not allowed in the domes or exhibition areas (unless they are assistance dogs), but they are welcome in all picnic areas, nature trails, and in the gardens.
Geevor Tin Mine
Made famous most recently by Poldark, Cornish Tin Mines are a must see and Geevor is one that can give a great day out to the whole family. There are no restrictions for dogs other than needing to stay on the lead, with the exception of the underground mine where they'll need to remain above ground.
Healeys Cornish Cyder Farm
This is a trip for all the family, despite the focus being on alcohol! Enjoy lovely outdoor areas including the orchards where well behaved dogs on leads are welcomed – although be aware of the farm animals or free-roaming peacocks. Find out more.
Lappa Valley
Lappa Valley is famous for its steam railway which runs from Benny Halt to East Wheal Rose. Dogs can ride for £1 on the train and can also climb aboard the canoe boats! You can also wander around the wonderful nature walks.
The Minack Theatre
One of the most astonishing outdoor theatres in the UK, The Minack Theatre in Porthcurno is very close to Land's End. Watching a production from there gives you an additional backdrop of the ocean rolling across the jagged rocks. You can take dogs there for a daytime visit, but not during the performances. However, it is well worth a visit as there are also sub-tropical gardens planted all the way down to the ocean edge. Keep your eyes peeled because there is often sea life spotted from here including pods of dolphins.
Heartland Cornish Visitor Attraction and Mining World
Explore this 19-acre family attraction with your family and furry friends. There's everything from a lovely picnic area to a vast garden with a yew maze. There are also mining exhibits, several play areas and friendly farm animals. Dogs are allowed everywhere except the children's adventure playgrounds. Find out more.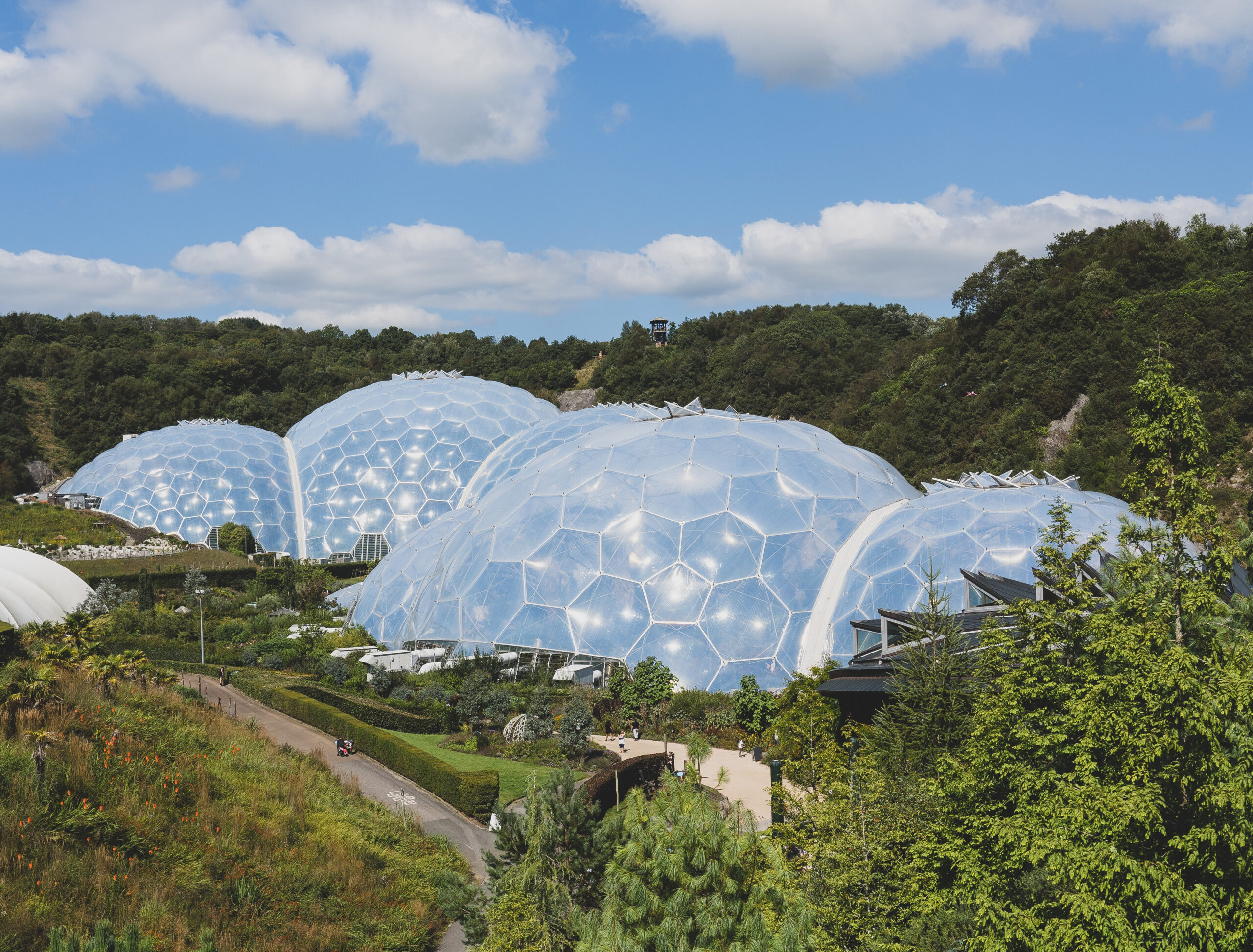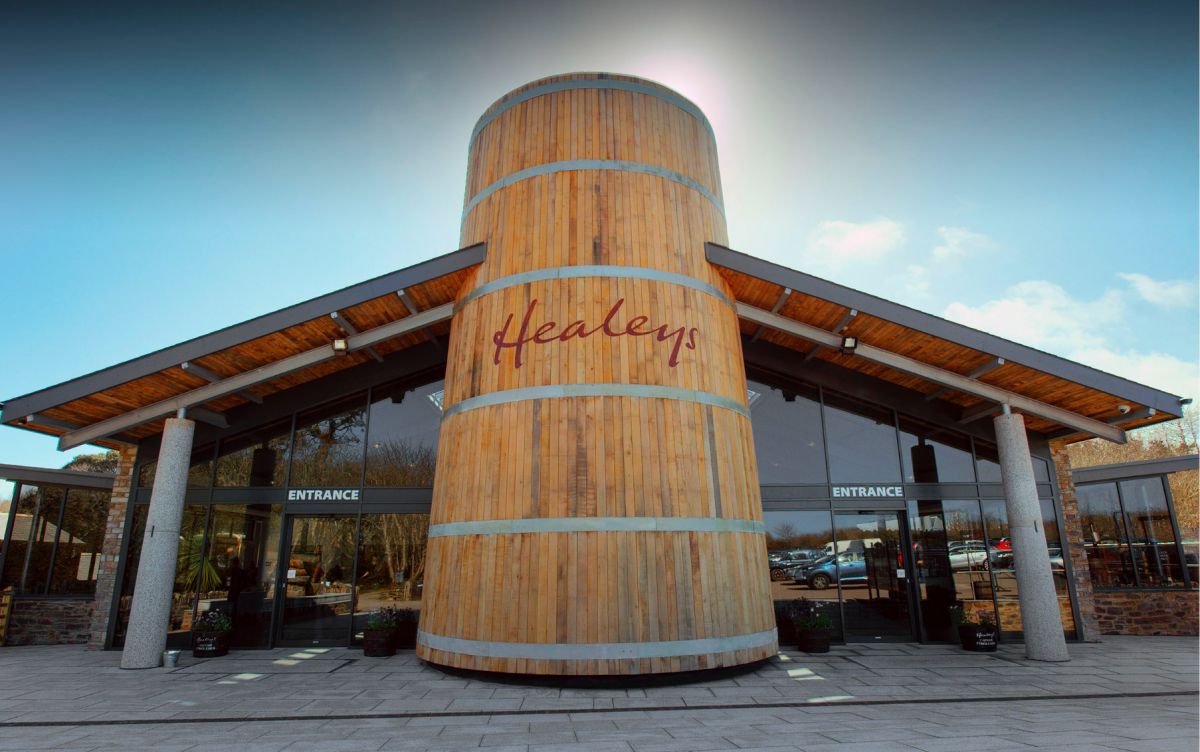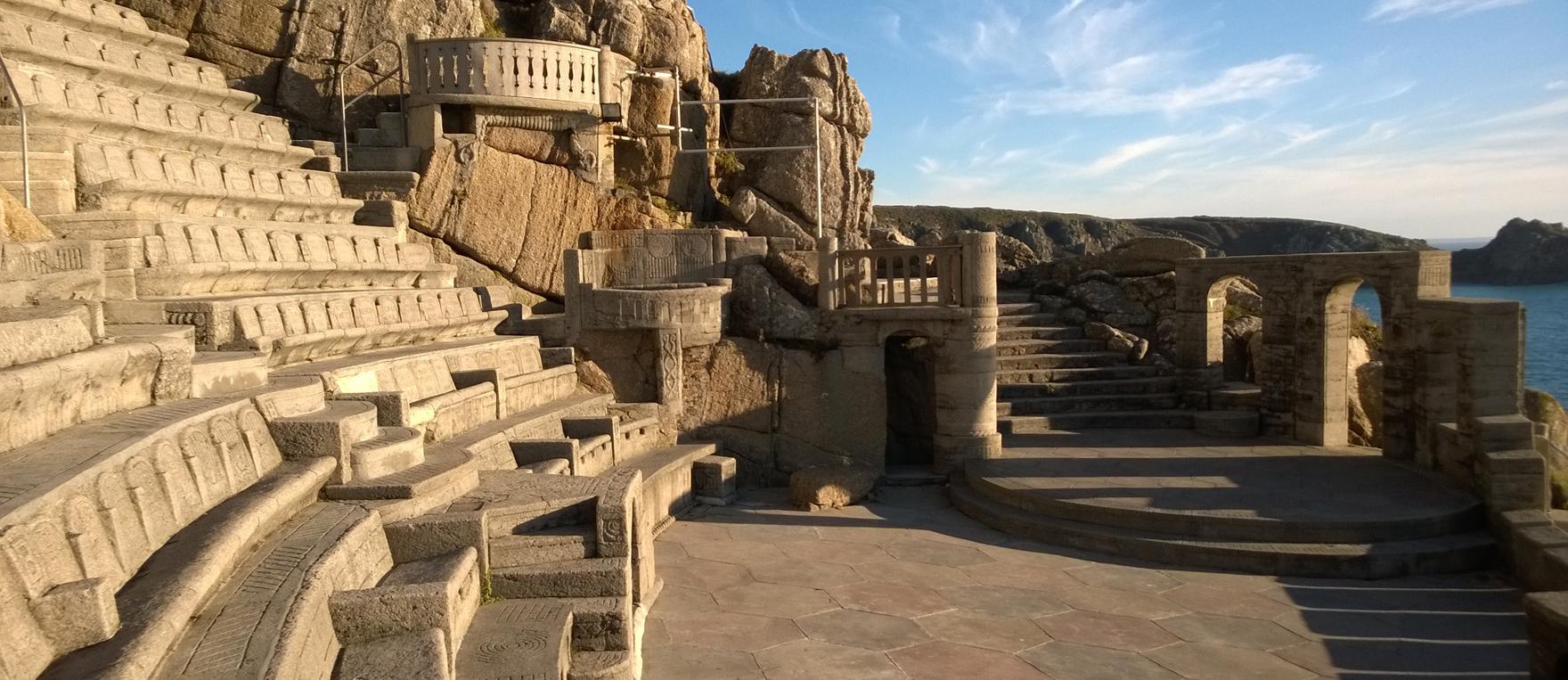 Pencarrow House and Family Friendly Gardens
Pencarrow House has a beautiful Grade 2 listed garden that is open to the public and is bound to give any green-fingered visitor some inspiration. The family-friendly garden has several play areas and trails with benches and seats. All in all, there's 50 acres to explore. Dogs are free to run without a lead except for in the area outside the house where chickens and peacocks roam. No dogs are allowed inside the house or cafe unless they're assistance dogs.
St. Mawes and Pendennis Castles 
St. Mawes Castle is a 16th-century seaside fortress built by King Henry VIII in 1540. One of the best-preserved examples in Britain, St Mawes is the place to go if you love history and want to educate your dog about the Tudor period. St. Mawes Castle is a dog friendly attraction and welcomes dogs on leads. Pendennis Castle, could also be combined with your trip to St Mawes. It is another one of Henry VIII's castles, perfect for dog owners who aren't afraid to walk some steep hills. It  is located along Falmouth Docks and the views are spectacular – plus there are some beautiful walks. All dogs on a lead are welcome including inside the buildings and around the grounds.
Cornish Goldsmiths Treasure Park
The treasure park is a free attraction where you pay for the activities that you actually want to do. It has indoor areas so is good in the rain. There is a collection of jewellery shops, a 'build your own bear' workshop, craft shops and even somewhere where you can do some 'panning for gold or semi precious stones'! There is also a restaurant with varied menu (dogs are allowed in) where you can enjoy meals, coffee, cakes and Sunday lunch. Find out more.
Hidden Valley Discovery Park
Hidden Valley Discovery Park is a discovery park for all ages near Launceston. It's a great day out for a young family as there is a puzzle trail, maze and a miniature railway. Dogs must be kept on a lead and retractable leads are not allowed.
Newlyn Art Gallery and Exchange Gallery Penzance
Visit these two galleries that showcase the very best of national and international contemporary art, as well as work by some of the best artists currently working in the region. It's free to get in and dogs are welcome as long as they are well-behaved and on a lead. Find out more.
King Edward Mine Museum
From underground tunnels to a mining museum with interactive exhibitions. The King Edward Mine Museum is an ideal place to visit with your family and family pet.
Lanhydrock
A Victorian family home inside a Jacobean mansion, surrounded by beautiful formal gardens, an expansive estate and exciting cycling trails. From improving dog-friendly trails to providing more waste bins and water bowls, they are taking steps to make sure you and your pup feel welcome. Stop off for a refreshing snack or drink at the Park Café or The Stables tea-rooms where waggy tails are welcome. Cattle and sheep are regularly in the Lanhydrock parkland at different times throughout the year so temporary electric fences will be in place when the cattle are present, to offer visitors a cattle-free path down towards the house and gardens. Dogs need to remain on leads when close to the fences and cattle.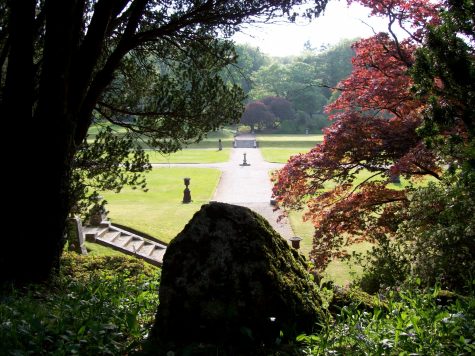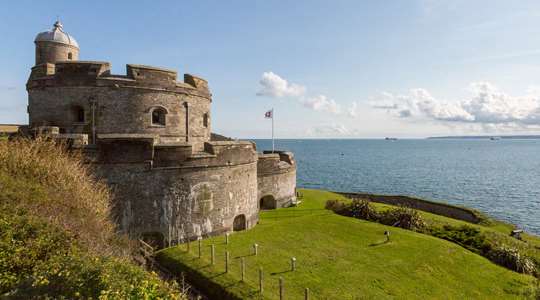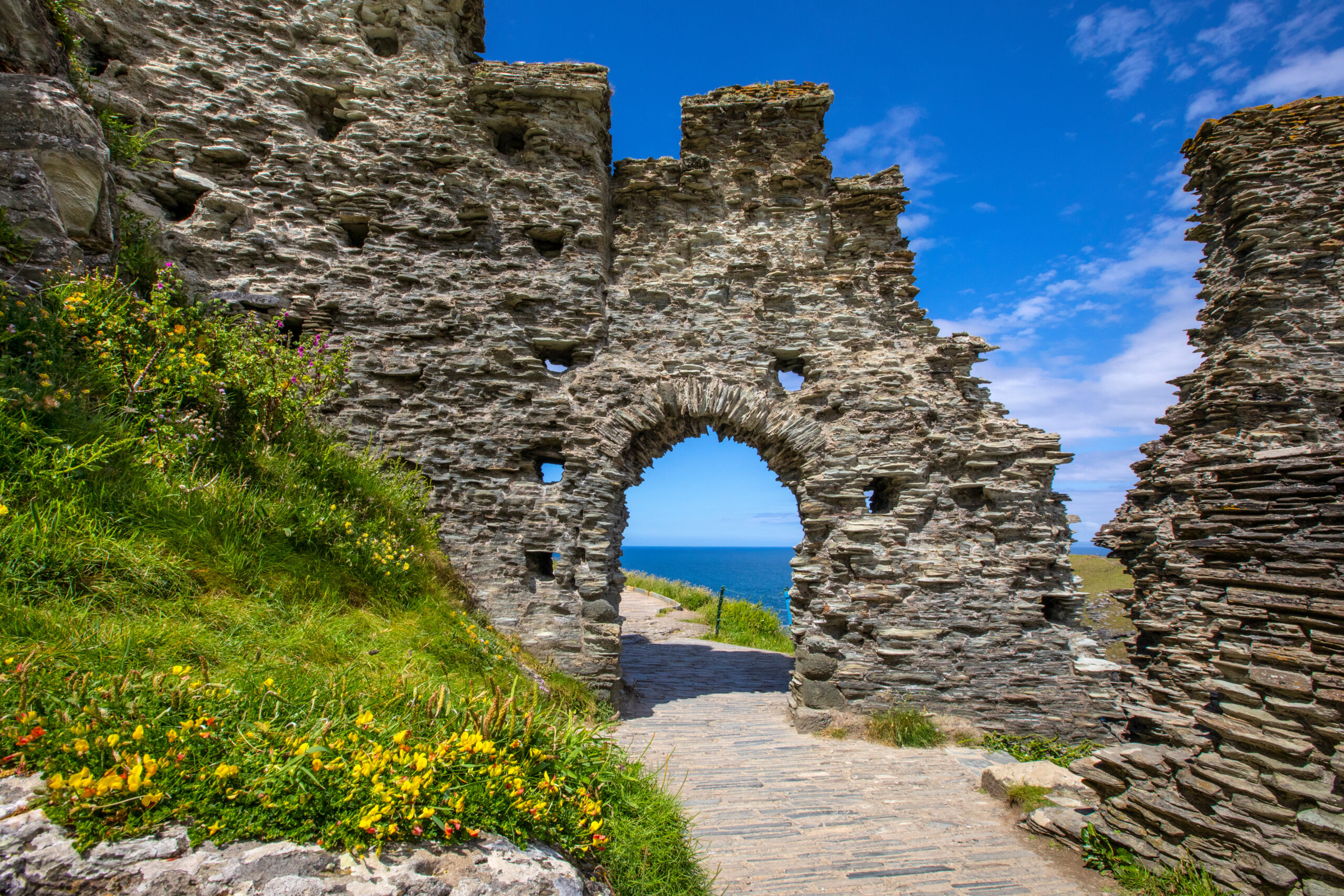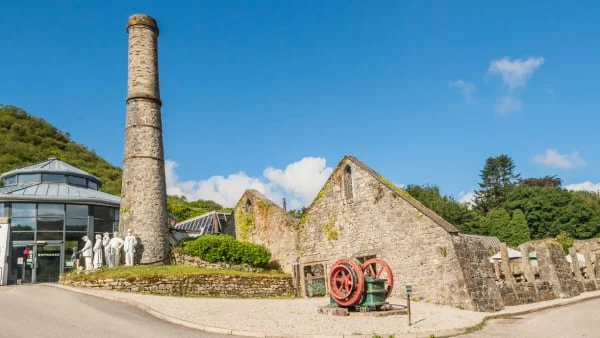 Pinetum Gardens
In the heart of St Austell, discover Pinetum Gardens, a place of tranquillity, peace and remarkable garden scenery. This family-owned garden offers an intimate experience with a personal touch, rarely found in our busy world. Lovingly created over the past four decades, this 30-acre garden is home to one of the largest plant collections in the county. Set within stunning parkland, ten individually themed garden rooms host an array of plants. A garden for all seasons, it is a botanical delight for gardeners; a wonderful retreat for walkers and a place for families to explore and have fun with nature. Well behaved dogs and owners welcomed.
PK Porthcurno
PK Porthcurno is a unique museum experience telling the story of how a once uninhabited valley in Cornwall became the heart of worldwide communication, how it remains so today and what might happen tomorrow. They welcome dogs to the museum throughout the year. A visit could followed by a walk along the stunning South West Coast Path, or visit the famous Porthcurno beach (dog restrictions apply from May – August). Dogs are permitted in the museum, and inside at Cafe PK. The only place that they are unable to visit is the World War Two bunker, which is due to the sensitive nature of the equipment on display.
Shipwreck Treasure Museum
The Shipwreck Treasure Museum shows a unique insight into the history of maritime adventures and misfortunes. Discover 8,000 finds from over 150 shipwrecks. Dogs are very welcome at the Shipwreck Treasure Museum and there are water bowls around for their comfort. Take your furry friend to visit Dough Bouys to enjoy a pizza and some sun on the deck, or visit one of the many dog-friendly pubs in the historic port and feast your eyes on the breathtaking sea views at a UNESCO World Heritage Site.
The Lost Gardens of Heligan
The Lost Gardens offer a perfect walk for you and your four-legged friend, with over 200 acres pathways and routes to explore, Heligan remains one of the most loved and romantic gardens in the UK, appreciated as much for its beauty and mystery as for the ground breaking restoration project
Tintagel Castle
For a magical day out, visit Tintagel Castle. Set high on the rugged North Cornwall coast, Tintagel Castle offers dramatic views, fascinating ruins and a beach cafe. Cross the spectacular new bridge to take in unforgettable views of the coastline and explore the history-rich headland. Walk among the castle ruins that still cling to the cliffs, find early-medieval remains and meet Gallos – the life-size bronze statue of an ancient king who keeps watch over the wild seas below. Tintagel Castle is one of the most iconic visitor attractions in the south west. Dogs are welcome on leads.
Trebah Garden
Trebah is a sub-tropical paradise with a stunning coastal backdrop and over four miles of footpaths. There are designated doggie tables in Trebah Kitchen, so dog lovers can sit together. Dogs are also welcome on the garden terrace and in the picnic area. Water bowls are available outside the Visitor Centre and they offer complimentary poop bags to dog owners on arrival. Dogs are unfortunately not able to attend event performances at Trebah.
Launceston Castle
Launceston Castle dominates the surrounding landscape and is dog friendly. Started soon after the Norman Conquest, the focus is an unusual keep consisting of a 13th century round tower built by Richard, Earl of Cornwall, inside an earlier circular shell-keep. The tower top is now reached via an internal staircase. The castle long remained a prison and George Fox, founder of the Quakers, suffered harsh confinement here in 1656. A display traces 1,000 years of history, with finds from site excavations. Dogs welcome on leads.